Does Snow Mode Actually do Anything on my Acura?
Accessories
Feb 2nd, 2023
When upgrading to a new vehicle, it can be exciting to have unique features to use. Some features are used more often than others, and some features leave you wondering, "What does this button do?" or "Does this make a difference to my driving experience?" In this post, we're getting you started by focusing on the driving modes of the Acura RDX and MDX, specifically Snow Mode.  
If you have AWD active and snow tires installed, is it essential to use snow mode? The answer is yes…and no. No, it's not vital for you to use it, but it does make a difference in your driving experience. Let's talk about what snow mode is and how to use it.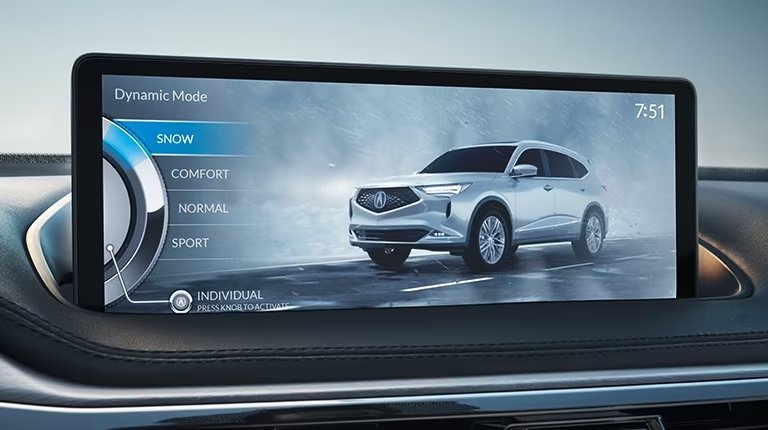 What is snow mode? 
Snow mode is a part of the Acura Integrated Dynamics System (IDS). This system is outside of the 1st, 2nd, and 3rd gears. Owners enjoy a 10-speed automatic transmission with paddle shifter, but with five unique driving modes: Snow, Comfort, Normal, Sport, and the customizable Individual mode. According to Acura, the snow mode "offers better traction and more confidence by adjusting the amount of power going to each wheel." Snow mode improves handling when driving on snowy roads in the winter. More specifically, it reduces the engine's power and the accelerator's responsiveness to help prevent skidding, adjusts the transmission's settings to keep the engine speed down, and modifies torque distribution to avoid overloading the wheels that lose traction. When the car is in Snow, the Auto Idle Stop System will stay disabled regardless of the Auto Idle Stop OFF button. Snow mode also helps start in higher gears to reduce wheel slippage.
 
To activate "Snow Mode," find the Dynamic Mode and turn it to either the left or right. All the modes will appear on your screen. Rotate the knob and select Snow.  
Does Snow mode help with icy conditions? 
Anytime you're driving in snowy or slick road conditions or other surfaces such as mud (which can come in handy when winter comes to an end), snow mode can help with keeping traction and control. But does it help you in icy conditions?  
Snow mode helps driving in winter weather and lets you maintain the wheel's control. However, even if your car is in snow mode, driving on ice is still dangerous. It would be best to use extreme caution still use extreme caution when driving in icy conditions.  
Takeaway 
Overall, is it worth using your snow mode function? Absolutely! Using this function not only helps you better control your vehicle and gives you a smoother ride, but it can also help increase your MPG. It helps reduce torque during acceleration which then helps with your fuel efficiency. Don't go another day this winter thinking that the snow mode button is a gimmick. Try it out, and when the weather changes, try the other modes too! 
To view more of our blogs about all things Acura, please visit here.