Recycling Car Parts for Unique Yard and Garden Décor
Blog
Sep 16th, 2022


Millions of vehicles are scrapped every year in North America, left to dwindle and become forgotten in landfills. However, instead of sending an old car to the junkyard, upcycling scrap parts and turning them into something new for your garden can be an eco-friendly and creative way to spruce up your yard. From tire flower beds to hubcap birdbaths, here's how you can make the best of scrap car parts and turn them into something totally new!
Tires
A single tire can take hundreds of years to decompose entirely (no pun intended), which presents a significant issue, since 11% of dead tires are dumped into garbage lots. However, old tires are perhaps one of the best ways to bring a creative element into your garden, and they can do so in several ways.
Tire Flower Planters


You can use these planters for just about anything that grows—herbs, flowers, tomato plants, small trees, you name it! Here's what you'll need for this project: On old tire, 3/4″ plywood or end of wood spool, spray paint (White as a primer & then your desired color), a hot glue gun with glue, a drill and 8 screws, a circular plastic planter tray OR piece of tarp material (for lining), potting soil and your desired plants.
How to do it
1. Start with a clean tire. Prime your tire with white paint and once it's dry, paint it in your desired color.
2. After it's completely dry again, take your wooden spool end and lay it on the top of the tire.
3. Use your power drill to make 8 holes in your tire through the wood and tire, then drill your screws into the holes you made to secure the wood spool.
4. Next, flip the tire over and line it with the circular plastic planter tray or piece of tarp material, securing it to the side of the tire with hot glue (it does not need to go all the way up, it just needs to prevent the moist soil from seeping into the wood and damaging it).
5. Once you've done this, flip it over again once more to drill a few holes in the center for water to drip out the bottom.
6. Take your planter and bring it to where you would like it to remain, as once it's full of dirt, it will be very heavy—now fill it with dirt!
7. Liven it up with your choice of plants, and there you have it.
Outdoor Tire Seating


Wait, don't stop reading yet—it's not as tacky as it sounds. Tires are sturdy and last for a long time, so these greatly overlooked materials are perfect for outdoor ottomans and seating. Here's what you'll need for this project: On old tire, two 3/4″ pieces of plywood or two ends of wood spool, a set of four furniture legs (optional), a hot glue gun with glue, a drill and some screws, rope and a sealant.
How to do it
1. Either cut two pieces of plywood to match the size and shape of the tire, or use two end pieces off a wooden spool. Screw one piece of the now circular plywood to the top, then repeat on the bottom. 2. Attach legs to the bottom piece of plywood using screws (this step is optional.)
3. Wind the rope in a circle, beginning in the top, middle portion of the plywood. Glue each piece down as you go and continue until you've reached the bottom of the tire.
4. Use a clear sealer to fill the seal the cracks in the ottoman. Wait for it to dry, and there you have it!
Tire Rocking Horse for the Kids


Or the kids at heart, no judgment here. Here's what you'll need for this project: An old tire, chalk, spray paint (white as a primer & desired colors), a hacksaw, a small piece of rope, and some scrap wood.
How to do it
1. First, mark the center of your tire with a line using your chalk. Use your hacksaw to cut the tire in half at the markings you made as a guide. Clean the dust and debris off the tire once more.
2. It's a good idea to prime your tire with white paint first before you paint it in your desired color, since the color won't show well on a black tire.
3. After that, saw the 2×2 plank into blocks with the same width as the interior walls your tire, this will serve as support at the same time this is where you will mount the platform of your rocker. Put the small blocks on the inside edge of the tire and then use woodscrews to hold them in Place.
4. After that, measure the length of tire and cut a wooden plank, for the seat of your rocker. Attach your platform to the blocks that you attached inside your tire.
5. Drill two holes for the rope handles, and then go ahead and paint the seat.
6. Insert a rope into the holes you made the tie a knot on each end to secure it. Done! This will be sure to rock your kid's socks.
Hubcaps
There are quite a few different things that you can do to upcycle hubcaps to add a little flair to your outdoor space. There is a myriad of different ways to reuses old hubcaps to give them an interesting new flair.
Hubcap Flower Yard Décor


Without a doubt, thistle put you and your buds in a great mood! In fact, this project in particular is fun for all ages and a great way to give new life to old hubcaps. Here's what you'll need for this project: A hubcap or two (or three), a few paint brushes in a range of sizes, a variety of acrylic paints and a sealant spray. With this project, you can really let your imagination run wild, using creative colors to create an infinite amount of flower designs to grow your garden's charm. After painted, these beautiful flowers can be mounted on the wall, or glued to pieces of scrap wood or piping to give it a stem to stand in your yard.
How to do it
1. First thing you will need to do it make sure your hubcaps are clean and primer with white paint.
2. Next, choose the color you'd like to start with an begin painting your flower design (Tip: you can use online stencils for your designs, or use strips of painter's tape to create clean lines in your design.)
3. Allow it to dry, and either mount it onto a small rod with hot glue, or mount it up on a wall! Either way, these flowers are sure bring a little color to your garden year-round.
Hubcap Bird Bath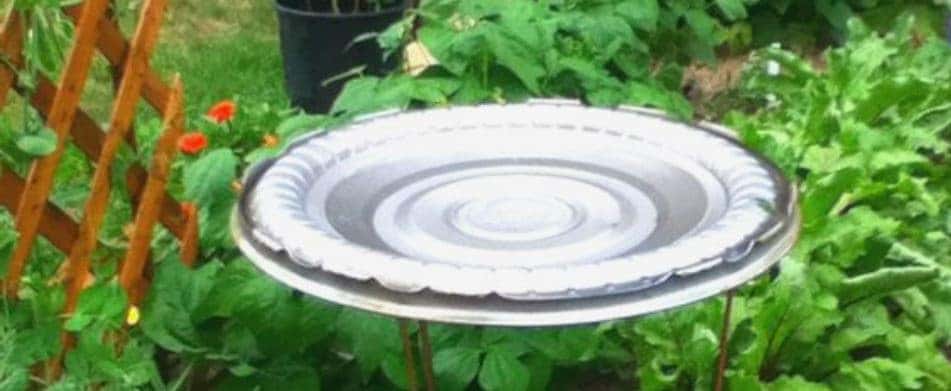 Hopefully this one won't fly over your head! Bowl-shaped hubcaps are definitely well suited for a birdbath. Here's what you'll need for this project: A hubcap (*Be sure before you begin, that you clean the hubcap well since residual motor grease, and other debris could be harmful to birds that use your birdbath.), either a metal pipe, PCV pipe, a 4x 4 wood post, or even a piece of driftwood. (If you are bonding your hubcap to something like a metal pipe or wrought-iron lamp stand, then consider buying a metal-to-metal epoxy), four long threaded screws.
How to do it
1. This one's fool-proof. Mount the hubcap hollow side up on to your chosen style of post with your long-threaded screws.
2. There's not much that can go wrong here, so feel free to get creative with how you mount it. The birds will be singing in no time at all!
Hubcap Hanging Succulent Planter


As long as you are a plant lover, you are sure to enjoy this wonderfully charming hanging-hubcap succulent planter. Here's what you'll need for this project: Succulents or small cacti (8 to 10), a hubcap (without large holes), spray paint (optional), a hoop ring, some thin rope, scissors, a power drill, and soil (grainy soil mixture with sand is ideal).
How to do it
1. First, make sure your hubcap is clean and dry. Then, spray paint it your desired color.
2. After it has dried once again, used your power drill to make four evenly spaced holes through the bottom edges of the hubcap.
3. Thread found equal length pieces of rope through each hole, tying the ends at the bottom in knots so they stay cannot thread back through the openings.
4. After this, fill your planter with soil, and arrange your succulents how you would like and plant them in the soil, adding more soil over the tops of the root.
5. Take the upper edges of the four pieces of rope and tie them to your loop. Now, you can hang your planter just about anywhere and enjoy your little floating oasis.
License Plates
Old license plates are likely to be some of the most common automotive materials as well as the most versatile for DIY projects. The sky is the limit when it comes to these things, so here are just a few great ideas for you to use if you'd like to add a little automotive flavor to your backyard.
License plate Windmill


Looking to spruce up you outdoor space with a touch of country whimsy? Try making a windmill for your yard using old license plates! It's as easy as it sounds. Here's what you'll need for this project: nine unique or old license plates, three 1/4th" diameter & 12" metal rods, one 1" diameter 12" length rod, and a 1" diameter 4ft length (like an old broomstick handle) rod, and a soldering iron.
How to do it
1. First thing to do is to take each of your three 1/4th" diameter & 12" metal rods and solder them together in the center, creating even spaces between each rod.
2. Take six of your favorite license plates and solder one to the edge of each rod, about half an inch down, then set the wheel aside.
3. Take the 1" diameter 12" length rod and solder the remaining three license plates on their edge to one end of the rod, creating the look of feathers on an arrow.
4. Assemble the three pieces together. Solder the larger rods together by laying the short rod with license plates onto the tip of the long rod.
5. Then, finish up by soldering the wheel onto the short rod, and there you are! Give it a spin and enjoy your hard work!
License Plate Windchime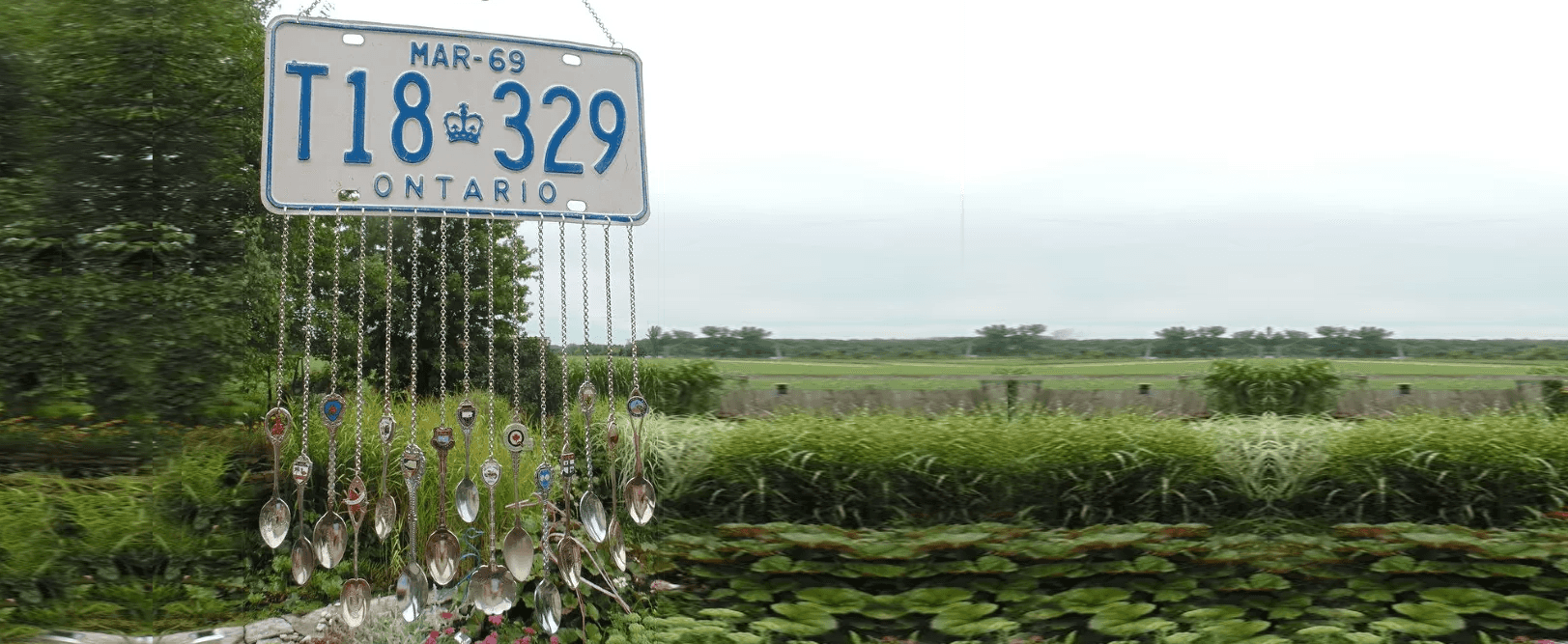 Can you hear that? It's music to our ears! Here's what you'll need for this project: a license plate, scrap pieces of metal or smooth glass (anything that makes a nice sound when rung), a thin chain (necklace size, or similar), a large split ring, some pliers, and a drill.
How to do it
1. First, you will need to mark on your license plate where you would like each chime to hang—this could be as few as 4 to as many as 10 spaces where you would like to place your chimes.
2. Drill holes in your evenly marked spaces using a 3/64 bit to make the holes, an two additional holes at the top for the hanging chain.
3. Using your plyers, open up the last ring of the small chains you've acquired, and slide them through each hole, closing the chain back up with your plyers once set.
4. When you've done this with each hole you've made, take your drill and make a hole in each of the pieces of scrap metal intended for the chime (*note, if you're using scrap/beach glass, make sure you drill very slowly as not to break the glass.) Add a chain to the left hole you made up at the top, taking the other end of the same chain and linking it to the right hole. Tada! No down this musical windchime will make your heart sing.
License Plate Bird House


Without a doubt, this birdhouse will drive the birds crazy! Here's what you'll need for this project: approximately 4 license plates, a 6x6in square box, a hot glue gun and a power drill with a 1/16"to 3/16" drill bit for the hole.
How to do it
1. Start with your 6×6" open ended box, this will be the base of the birdhouse.
2. Evenly cut two 6×6" length license plates into two panels for the sides of the birdhouse, then cut two more into an an even arrow shape, reaching 6" before the peak which will add an additional two inches.
3. Take one of the two pointed panels you just made and used your drill bit to add a hole into the upper part (bit enough for a little bird to crawl in and out off).
4. Use the hot glue gun to attach the license plate panels to each side of the bird house, and then take your last license plate bending it directly down the center and gluing it to the top of the structure as a roof. This creative birdhouse is a sure-fire way to make sure all the other birds in the neighborhood are jealous.
What are your favorite DIY projects to do with old car parts? Leave a comment below to share!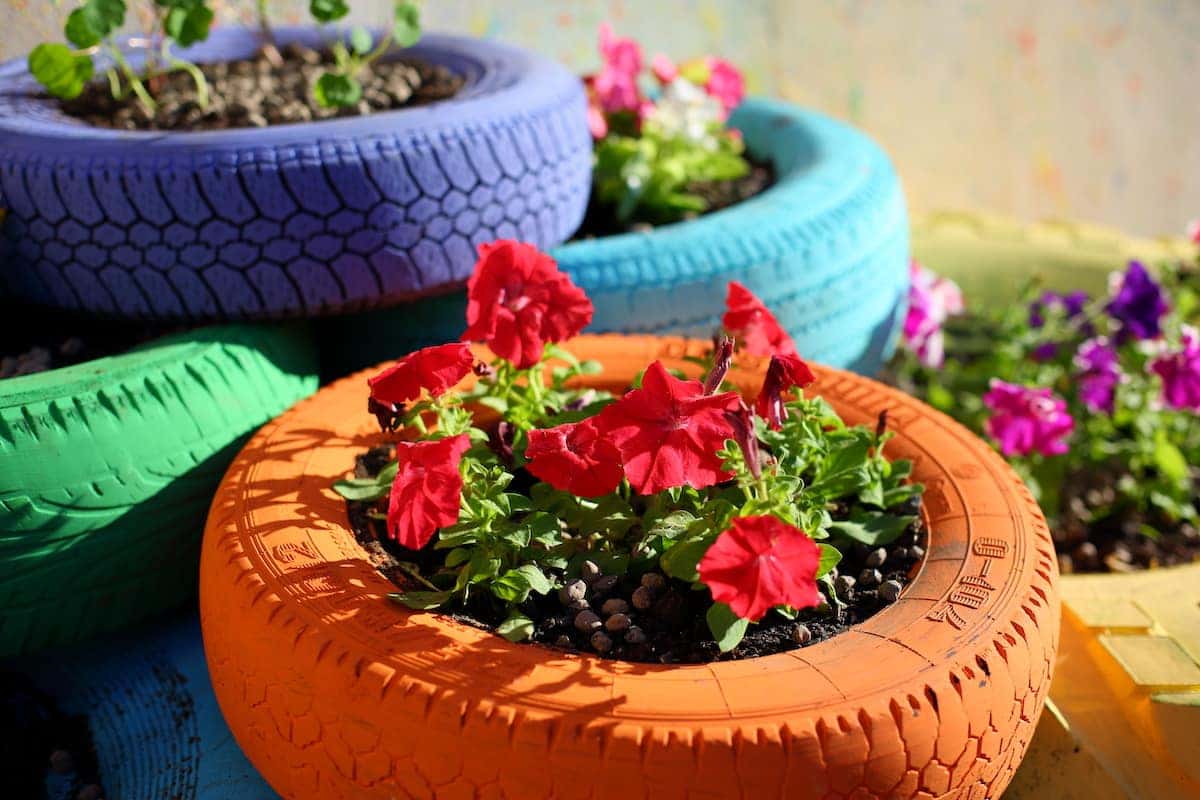 ---

Sources:
www.hometalk.com/diy/outdoor/garden/how-to-make-a-licence-plate-windchime
https://roostandrestore.com/15-cute-creative-license-plate-projects/
https://www.pinterest.com/pin/145381894207349565/
https://www.instructables.com/How-to-Make-Blooming-Tire-Planters/
https://www.succulentsandsunshine.com/how-to-plant-a-succulent/
https://addicted2diy.com/turn-an-old-tire-into-a-gorgeous-planter/
https://www.huffpost.com/entry/reuse-old-tires
https://www.gardenguides.com/13405469-how-to-make-a-garden-windmill
https://www.youtube.com/watch?v=6MPs9FjzXEo&ab_channel=daveFoss
https://feltmagnet.com/crafts/License-Plate-Birdhouse-Plans
https://www.wikihow.com/Make-a-Tire-Rocker
https://www.housebeautiful.com/lifestyle/fun-at-home/a26965087/easy-diy-rope-tire-ottoman/