Best Subaru for Your Lifestyle
Blog
Jan 26th, 2022
The Subaru brand is known for their diverse and unique vehicles that cater mostly towards outdoor and car enthusiasts. However, these cars are far more than just your typical outdoor and off-road joy rides. Subaru was founded in 1953, and their diverse lineup over the years has changed and flowed into a highly sought-after vehicle manufacturer, creating vehicles that can cater to many different lifestyles. Here are some of the best cars in the Subaru lineup that can cater towards your specific lifestyle and/or hobbies with some help from salesman James Salon.
Best Subaru for Families
Subaru Outback:

What do you look for when shopping for a family car? Safety features? Durable seats? Well good news for you, the Subaru Outback may be the car you are looking for. There's tons of storage, great handling, above average safety features, and great power for all your adventures. The Outback gets good fuel economy with 26 city mpg and 30 highway mpg and features a 2.5-liter 4-cylinder boxer engine that produces up to 182 horsepower. The interior of the car features quality materials, heated seats, and multiple USB ports. The cargo area has 32 cubic feet of storage, allowing you to carry everything you need in this stylish wagon. If you are in the market for a wagon or SUV, the Outback can be a great option for you and your family.
Best Subaru for Outdoor Adventures
Subaru Forester Wilderness Edition:

Subaru has a strong reputation for creating an outdoor-type car culture. Tackling trails and exploring the unknown is what Subaru is all about! Luckily, the Wilderness editions of the Outback and Forester are perfect for any type of adventures, and their AWD system makes them able to conquer any terrain. The Forester Wilderness edition features the standard symmetrical All-Wheel Drive system, with the exterior showcasing the rugged, blacked out cladding around the car. This edition of the Forester also has 9.2 inches of ground clearance and Dual Function X-Mode and this edition has redesigned roof rails supporting up to 800 pounds or a rooftop tent. The Forester is perfect for all your outdoor needs and is ready to conquer any dirt road or trail.
Best Subaru for Commuting
Subaru Impreza:

When commuting, you're often looking for a few key things; Fuel economy, comfortability, and reliability. The Subaru Impreza checks all those boxes! This is a great vehicle for commuting due to its great fuel economy and powerful AWD system. Be prepared for rain, snow, or shine with the impressive handling, and conquer the road with 35-36 mpg on the highway. The interior benefits from soft touch plastics, comfortable arm rests, impressive finish, and easy to operate climate and driving controls. You will have no problem getting to and from work in this comfortable Subaru!
Best Subaru for Towing
Subaru Ascent (Premium and Up):

Sometimes you need some extra power in your vehicle so you can haul supplies or even pull a trailer/camper. A great option for those who need to haul around extra weight is the Subaru Ascent. The Ascent can tow up to 5,000 pounds and contains up to 277 pounds of torque, allowing you to tow what you need, when you need to. The upgraded towing capacity is only available on certain models of the Ascent, as the base model can tow up to 2,000 pounds. The ascent also comes standard with Trailer Stability Assist giving you more control of your cargo. For an SUV, the Ascent gets above average fuel economy with 27mpg, making this a diverse vehicle for many situations.
Best Subaru for Road Trips
Subaru Outback: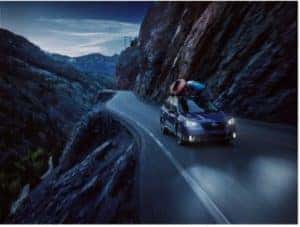 The Subaru Outback is second to none if you are considering a road trip. Whether it be a trip to the beach or a journey up to the mountains, the Outback comes standard with a roof rack for a cargo carrier, allowing you to bring all of your trip essentials. With up to 33mpg on the highway, you are looking at great fuel economy for all your adventures. The AWD system empowers drivers to explore all terrains with ease. When you get a Subaru Outback today, it also comes with 3 years of free roadside assistance with Starlink Safety! What is stopping you from your next adventure?
Best Subaru for First Time Drivers
Subaru Crosstrek:

Parents can be uneasy about car shopping when it comes to new drivers. You want something reliable, but also a car that is extremely safe. For first time drivers, we have the Base model of the Subaru Crosstrek. This is a Subaru that packs great safety features and economy for someone that is looking for their first car. The Subaru DriverFocus feature also keeps distracted eyes on the road, reducing collisions and decreasing the possibility of a crash. The Crosstrek also has AWD, a backup camera, and advanced airbags throughout the car and seats. If you are a parent looking to get your new driver into a safe and reliable Subaru, look no further than the Crosstrek!
Best Subaru to Handle the Snow
Subaru Outback Wilderness Edition:

Winter months can tricky, especially on the road. For those who encounter snow on a regular basis, The Outback Wilderness edition is for you. With a higher ground clearance, a skid plate and all terrain tires, this Outback is perfect for all your Winter adventures. Similar to the Forester of the same trim, this model has Enhanced Dual Function Subaru X-Drive, allowing you to put the car into snow mode. This model is "tougher, wider, and taller" than your traditional Outback, and is ready for when weather becomes unpredictable. This off-road SUV is battle tested and has been put up to the test, and it passed with flying colors.
Best Subaru for Pet Owners
Subaru Forester: 

When it comes to your pets, they are just as much passengers as anyone else. In order to keep them comfortable and safe, we suggest the Subaru Forester. The Forester offers spacious seating and rear cargo, as well as all the safety features that come standard in all Subaru vehicles. With the Forester you and your furry friends will be able to go on fun, comfortable road trips to wherever your heart desires. Don't forget to check out the Subaru Line of pet accessories either!
Best Subaru for Performance
Subaru WRX:

Speed, handling, and power. All things that sports car enthusiasts look for when buying a top performance vehicle. When it comes to Subaru, there is only one option. Without a doubt, the Subaru WRX and WRX STI are two of the best performing models in Subaru's lineup. According to Kelley Blue Book, the Subaru WRX is not only one of the best performing Sports Cars on the market today, but also the sports car that best retains its value. The WRX packs up to 268hp turbocharged Subaru Boxer engine, as well as track tuned suspension and symmetrical all-wheel drive. The STI packs a 310hp boxer engine, and is driven by the rally legends! The 2021 WRX was rated as a top Safety Pick combining the safety and reliability Subaru is known for, with the performance of a top tier sports car.
As you can see, Subarus are meant for all types of people, in all situations. Hopefully this guide was able to help you decide what one will fit your lifestyle best, or where to start your research. From pets to camping, an option is out there for you somewhere. For more information on models and editions of each Subaru, please visit the Research tab on the Ogilvie Subaru website.
Check out the Ogilvie Subaru Inventory HERE!